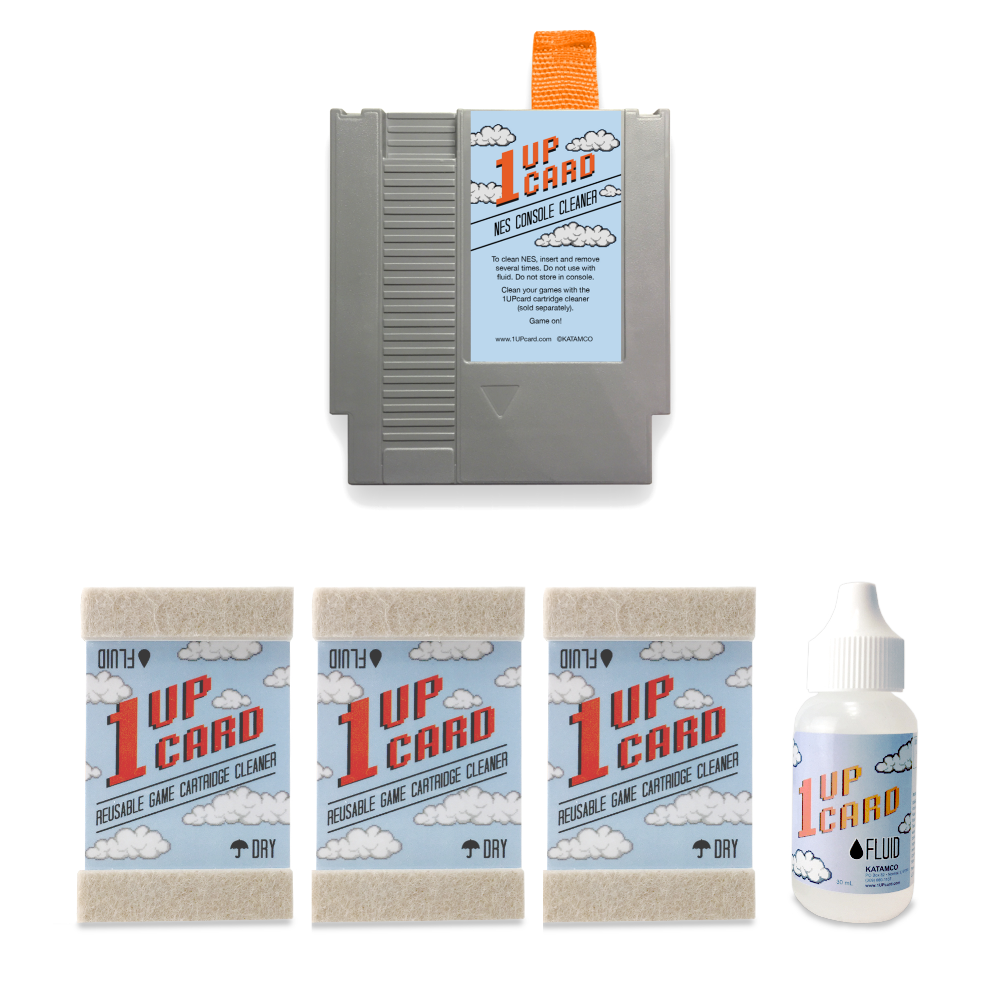 NES Cleaning Kit by 1UPcard™ - Console and Game Cartridge Cleaner Bundle - (save 15%)
There's nothing like classic gaming on original equipment. Except when you see that blinking red light... 
Save your breath; blowing into game cartridges was fine when we were eight, but now there's a better way: the 1UPcard NES Reviver Bundle.
This newly manufactured kit contains the NES Console Cleaner, three 1UPcards, and cleaning fluid to quickly bring your game cartridges back to life.  (And the cleaning cards are compatible with many other consoles' games too.)
Don't let 30 years of grime, spit and dirt stand between you and your Nintendo Entertainment System. Game on with the NES Reviver Bundle.
Not convinced? Check the reviews. 
1UPcard NES Console Cleaner Info
A clean console is just as important as clean games. If your 72 Pin Connector located inside your Nintendo Entertainment System is dirty, fuzzy, hairy, grimy or corroded, don't put a clean game in it. 
Insert the 1UPcard console cleaner into the console a number of times when your little red light gets to blinking. Uses all new parts.
Cleans and polishes the connectors on your Nintendo Entertainment System

Orange tab makes removal from console easy

Compatible with

Retro-Bit®, 

Retron, etc.

Don't use old and worn products to clean your games and system.

Game on with the 1UPcard NES cleaning kit

This is a newly manufactured console cleaner for the Nintendo Entertainment System. Clean your 72 pin connector quickly and easily for the NES.

Product question? Check the FAQ's.
1UPcard Game Cartridge Cleaner Info
Original kit includes three 1UPcards and 1UP cleaning fluid.
Restores games for Nintendo, Super Nintendo, Sega Genesis, N64, Atari and more.

Durable cleaning card restores games quickly and easily.

Easy to dispense, 99% isopropyl alcohol, 1oz

Super simple. Super fast.

Assembled in the USA from domestic and foreign components.
Not convinced? Check the reviews.