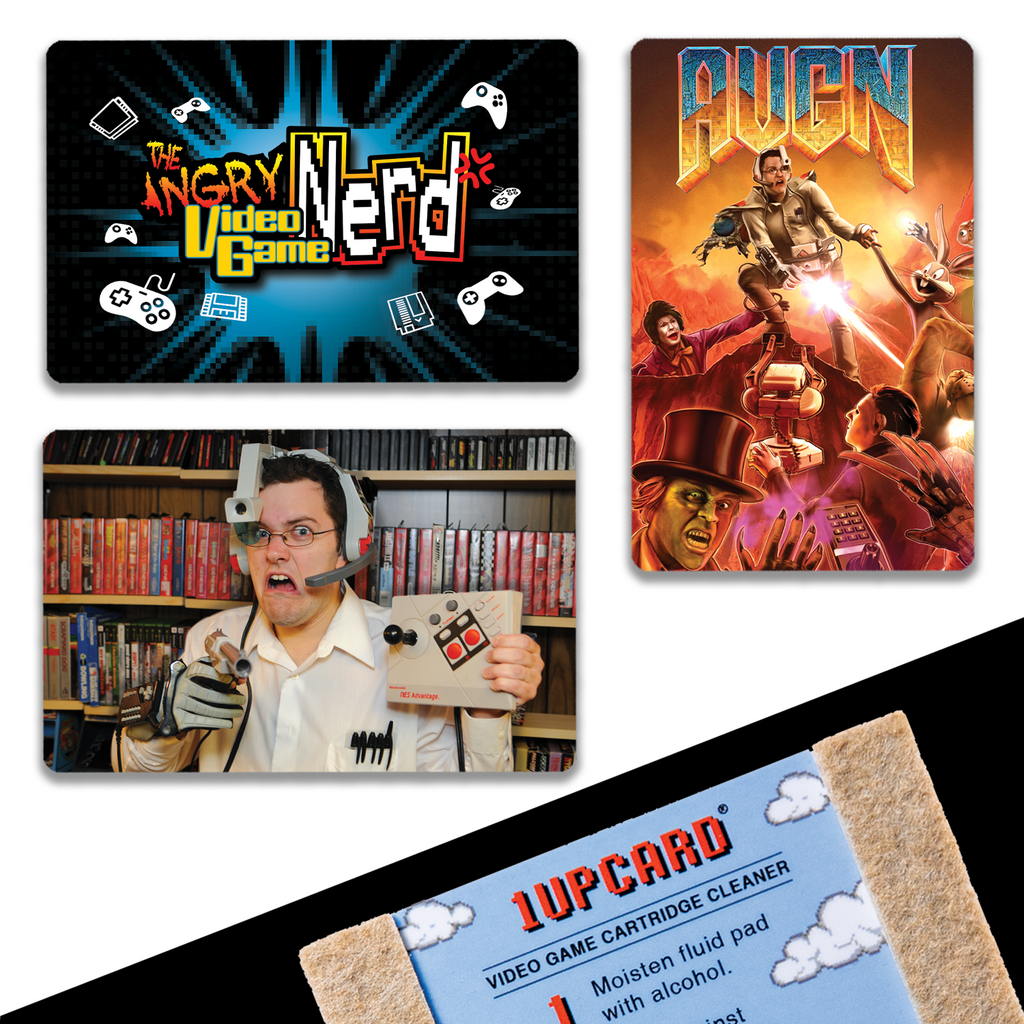 AVGN 1UPcard™ 3 Pack - Mix - Officially Licensed Angry Video Game Nerd game cartridge cleaners
Clean even the sh!ttiest of games with your favorite hero, the Angry Video Game Nerd! With the best in game cleaning on one side, and collectible Nerd images on the other, these licensed 1UPcards will have you swearing at one-hit deaths, water levels and time limits in a matter of seconds!
Restores games for Nintendo, Super Nintendo, Sega Genesis, N64, Atari and more.
Our durable cleaning cards restore games quickly and easily.

Use with your preferred cleaning fluid

Super simple. Super fast.

Assembled in the USA from domestic and foreign components.
Each pack contains 3 cards with three different images.
Questions about the product? See our FAQs.

What do retrogamers think about the 1UPcard? See the reviews.  ⭐️⭐️⭐️⭐️⭐️
REVIEWS FROM RETRO GAMERS
⭐️⭐️⭐️⭐️⭐️ 
Works great!

As I've been buying some used SNES games lately I wanted something to clean them with that was easier to use and worked better than the wands that come with the official Nintendo cleaning kit. Yes, I still have one of those that I bought new and was barely used as all my games were new back then :). Saw a video about these and all the reviews were positive so I gave it a shot. They work great! The felt is wide and thick so it fits in the end of the cartridges nice and snug and after just a few movements back and forth the non-functioning game came back to life. I can see these lasting a long time, especially a pack of 3 since they seem so durable. Just wash them when needed. The card portion is plastic so water won't harm them.
⭐️⭐️⭐️⭐️⭐️
Great cleaning tool!

Instead of finding and using other items to clean cartridges this is a much better option. I have used Q-tips in the past and they can leave debris. This seems to get the cartridges cleaner without worry of damage. -Brad
⭐️⭐️⭐️⭐️⭐️
I use them daily

Have been using these to "touch up" polished carts. Works wonderfully and keeps all of my games working like new. Just ordered my second set. The first has lasted over a year with HEAVY use. -Max