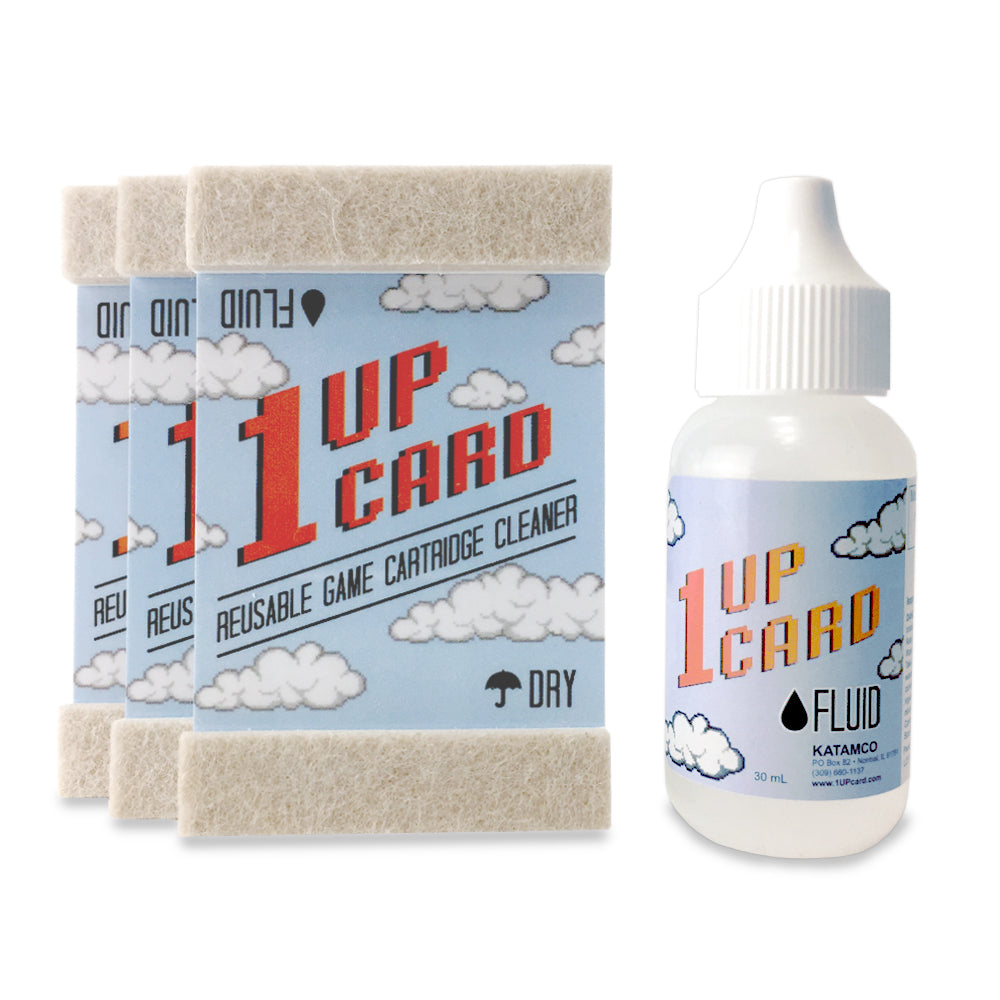 1UPcard™ Video Game Cartridge Cleaning Kit - 3 Pack with Fluid
Original kit includes three 1UPcards and 1UP cleaning fluid.
Restores games for Nintendo, Super Nintendo, Sega Genesis, N64, Atari and more.
Durable cleaning card restores games quickly and easily.
Easy to dispense, 99% isopropyl alcohol, 1oz
Super simple. Super fast.
Assembled in the USA from domestic and foreign components.
UPC 856691002447
Questions about the product? See our FAQs.
***Note*** This item can not be shipped to Canada, Hawaii, Alaska, or overseas. Please shop items from our international collection instead. Its flammable!
What do retrogamers think about the 1UPcard? See the reviews.  ⭐️⭐️⭐️⭐️⭐️
REVIEWS FROM RETRO GAMERS
⭐️⭐️⭐️⭐️⭐️
These things work great!! Pleasantly surprised!!!
December 1, 2018
I was skeptical, but these things actually work! Games that use to take 2-3 minutes worth of adjusting, blowing, etc. now work the first time I stick them into the NES. Very happy with this purchase! -Donovan
⭐️⭐️⭐️⭐️⭐️
Great for cleaning old games from yard sales!
November 27, 2018
Started collecting some old retro games and this is exactly the perfect solution for cleaning those items. Perfect size card and the solution cleaned up without much effort. Easily my first go to utility for when I get old games from yard sales.
HIGHLY recommend the item! You will not be disappointed. -Jason
⭐️⭐️⭐️⭐️⭐️
Bringing old memories back to life!
November 24, 2018
This is a great product for any classic and retro game collector. Just ordered a second set and would gladly recommend to anyone who is interested in collecting and playing retro games. -Matthew
⭐️⭐️⭐️⭐️⭐️
Great cleaner for cartridge games.
November 23, 2018
Used it to clean some old NES Cartridges, quick and easy to apply. Games started up right up after being cleaned with the 1UP card cleaner. -Richard