Made in the USA

100% Happiness Guarantee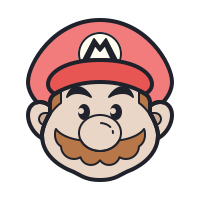 Works on games from multiple consoles
You Are Not Cleaning Your Game.
You Are Harming It!
It's a Saturday morning. You don't have to work. You don't have to go anywhere in fact. It's 1:00 pm and you're still sitting in the living room, unwashed, in your PJs, with the quilt from the back of the couch wrapped around your shoulders. The conditions are perfect to bust out those old gaming systems and return to a simpler time in your life.
Grab yourself an orange soda and settle in. You open up the tied-up Walmart bag that holds the console, cartridges, controllers, and wound-up cords. You get it all plugged in. You slap in your copy of Battletoads. It starts up, but all you see is a mess of letters and colored cubes.
Easy fix. Take the cartridge out, blow in the bottom of it, blow in the console, give it another go, right?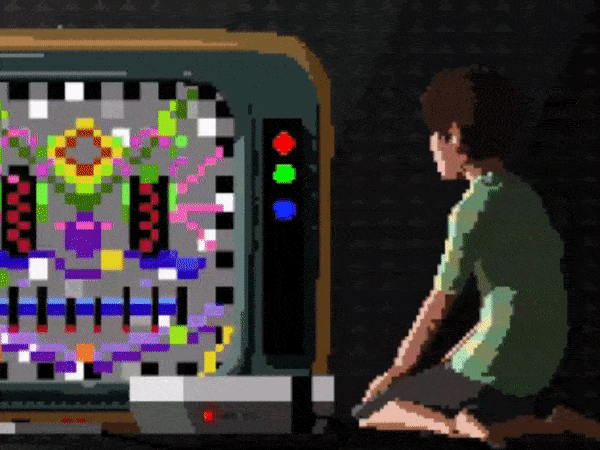 Protect

The Games You Have

This age-old method of cleaning your gaming cartridges is actually harmful to the game. And you want to protect that sweet, sweet nostalgia.

When you blow into a cartridge, the moisture from your breath collects on the inside of the cartridge and can cause the metal to rust. You might find yourself saying, "I've been doing this for years and my cartridges still work!" You may not see the negative effect from this right away. But if you're blowing into the cartridge every time it glitches for decades, it will start to deteriorate. And the more time that passes, the harder it will be to find a replacement for your favorite games.
So How Do You Protect That Sweet, Sweet
Nostalgia?
For a faster, more convenient option, we bring you the 1UPcard Video Game Cartridge Cleaning Kit. It comes in two sizes, one for regular console gaming cartridges and one for smaller cartridges for portable gaming devices. 1UPcards are compatible with Nintendo, Super Nintendo, Sega Genesis, N64, Atari, Game Boy, and more.
We've made it easy to preserve your old cartilage games and consoles by providing an easy solution for daily maintenance and if that wasn't enough we've also made it possible to revive your old games and consoles that no longer fully function. We can give your games an extra life in seconds.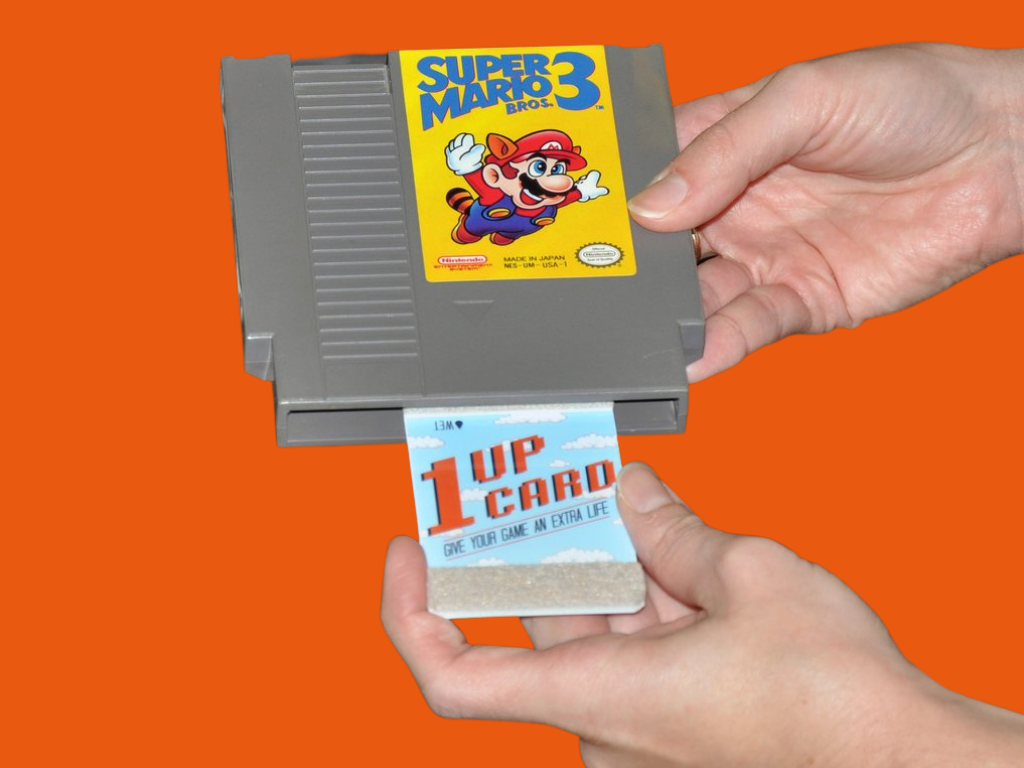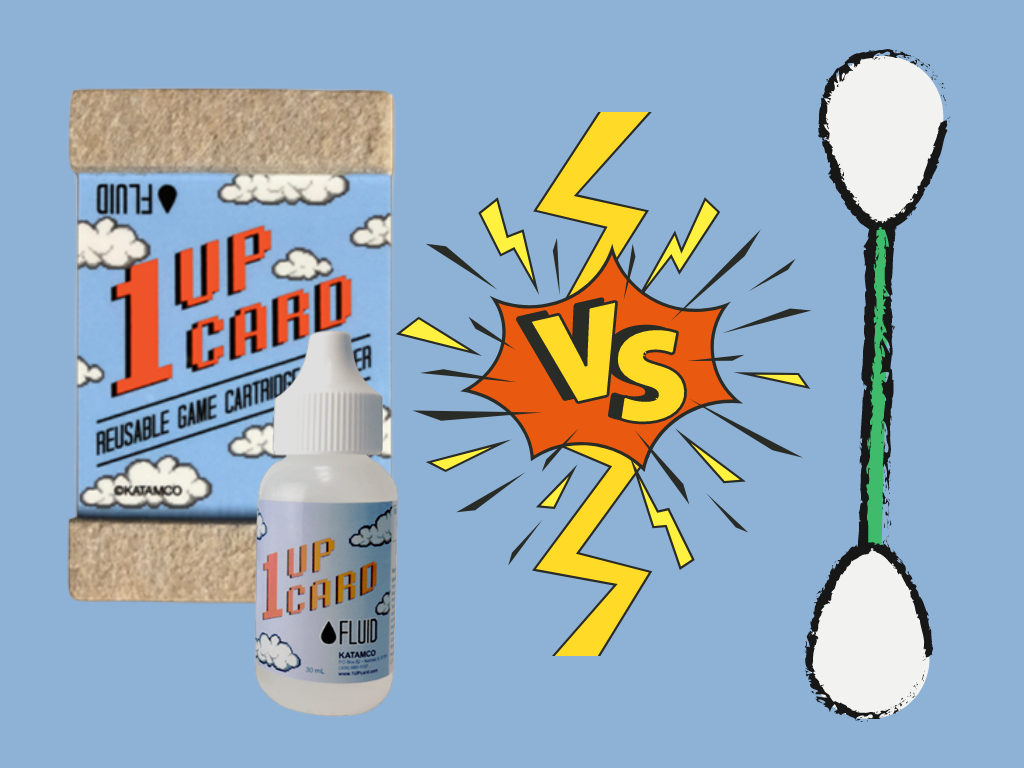 1upcard Will Clean Your Cartridges Much
Faster And More Thoroughly

Than A Q-Tip Would

But honestly, do you want to waste your precious lazy afternoon cleaning with half a dozen Q-tips, or do you want to get to gaming as soon as possible?

BUT DON'T TAKE OUR WORD FOR IT.
SEE WHAT OTHER RETRO GAMERS THINK
"The design is super straightforward and makes it easy to understand how to clean the connectors without damaging them. The sizing is great, and the whole thing also looks cool too! I totally recommend this product!"
Derrick
"Does a real nice job and gets all the dust, dirt, and grime off of old games. This product works very well and after cleaning my Super Mario Bros. game. I not only saw brighter picture, but the sound became much clearer. I just wish I could find this at stores. A game store wanted me to pay 20+ dollars just for them to clean 2 games."
Hunter
"This product literally saved three seemingly-non-working SNES games from the scrap heap. It takes a total of ten seconds to clean and dry each game and, most importantly, it works!!!"
John
Keeping Your Games Alive Has Never Been So Easy
1UPcards Are Durable And Reusable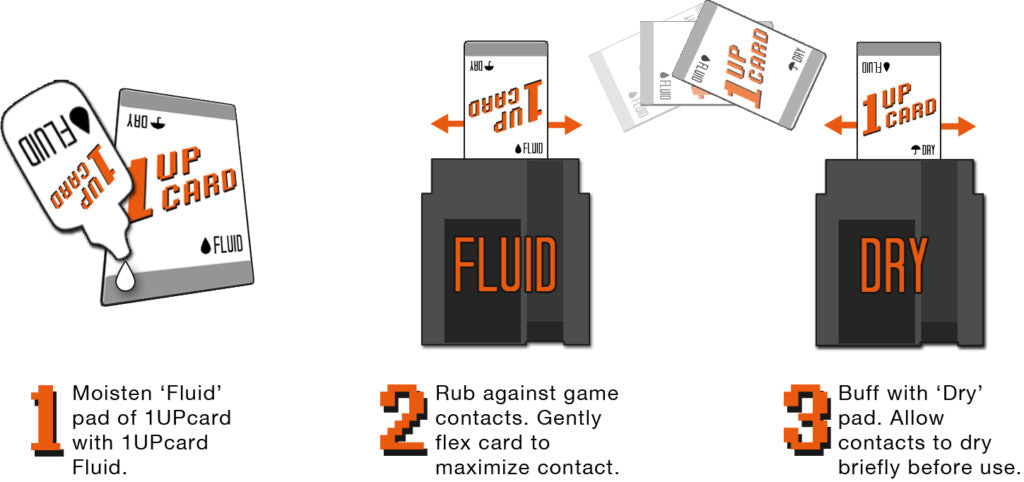 Order A Bundle Today And Keep Your Retro
Games And Consoles In Top Shape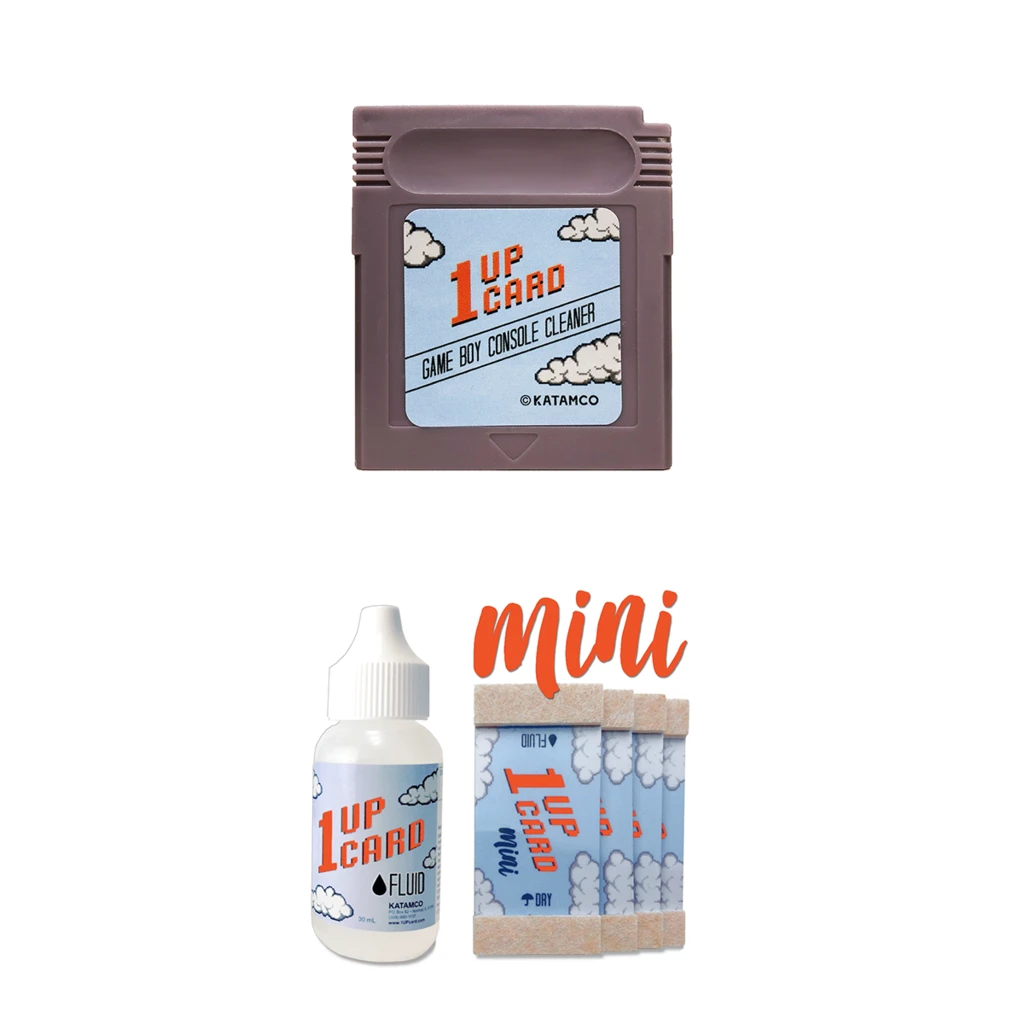 SAVE 15%
Game Boy Cleaning Kit by 1UPcard™ - Game Boy Console and Game Cartridge Cleaner Bundle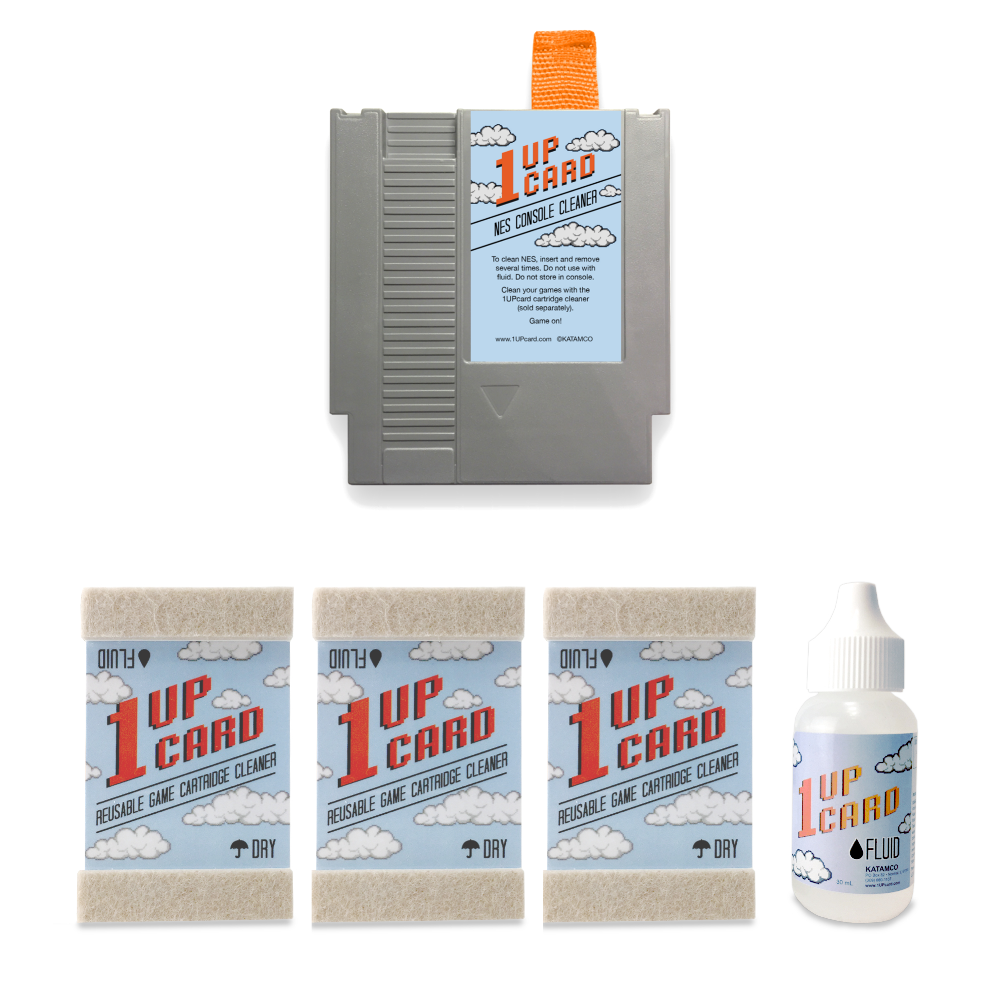 SAVE 15%
NES Cleaning Kit by 1UPcard™ - Console and Game Cartridge Cleaner Bundle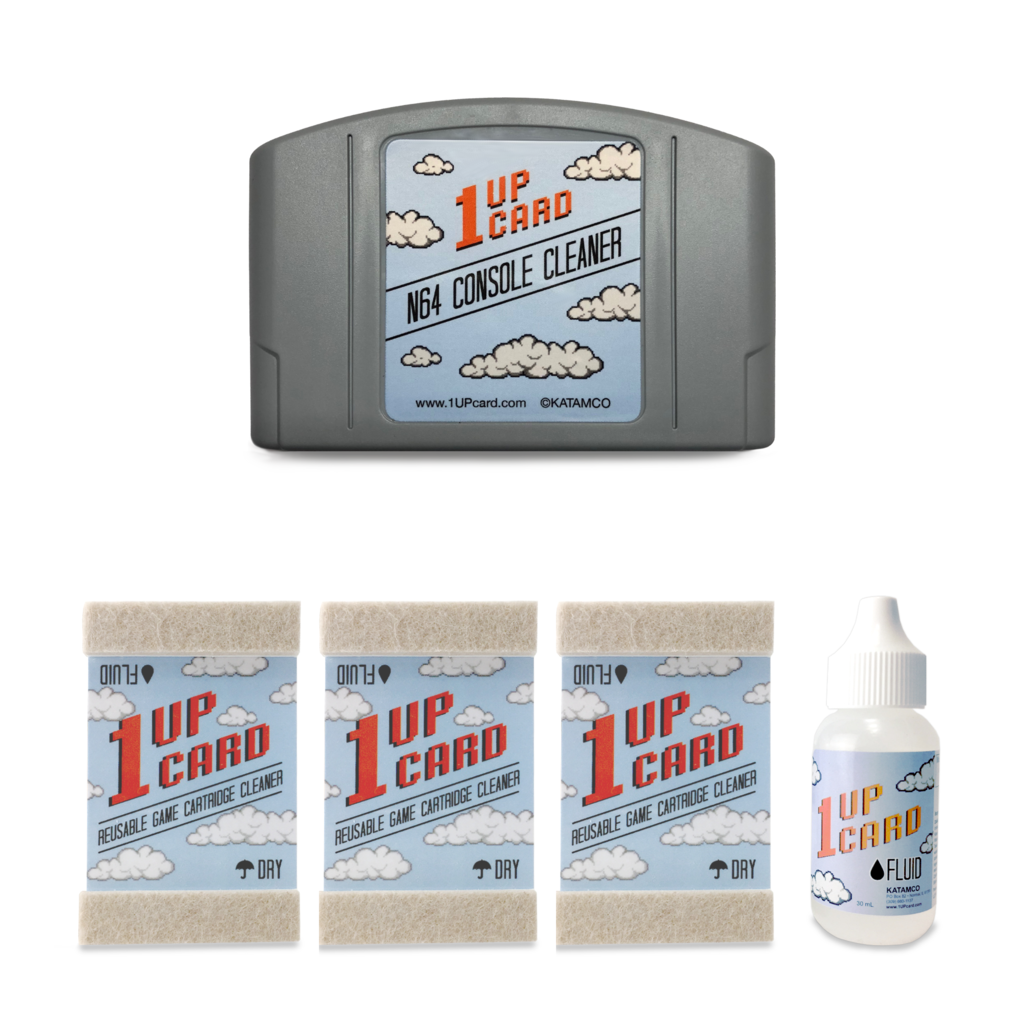 SAVE 15%
N64 Cleaning Kit by 1UPcard™ - Nintendo 64 Console and Game Cartridge Cleaner Bundle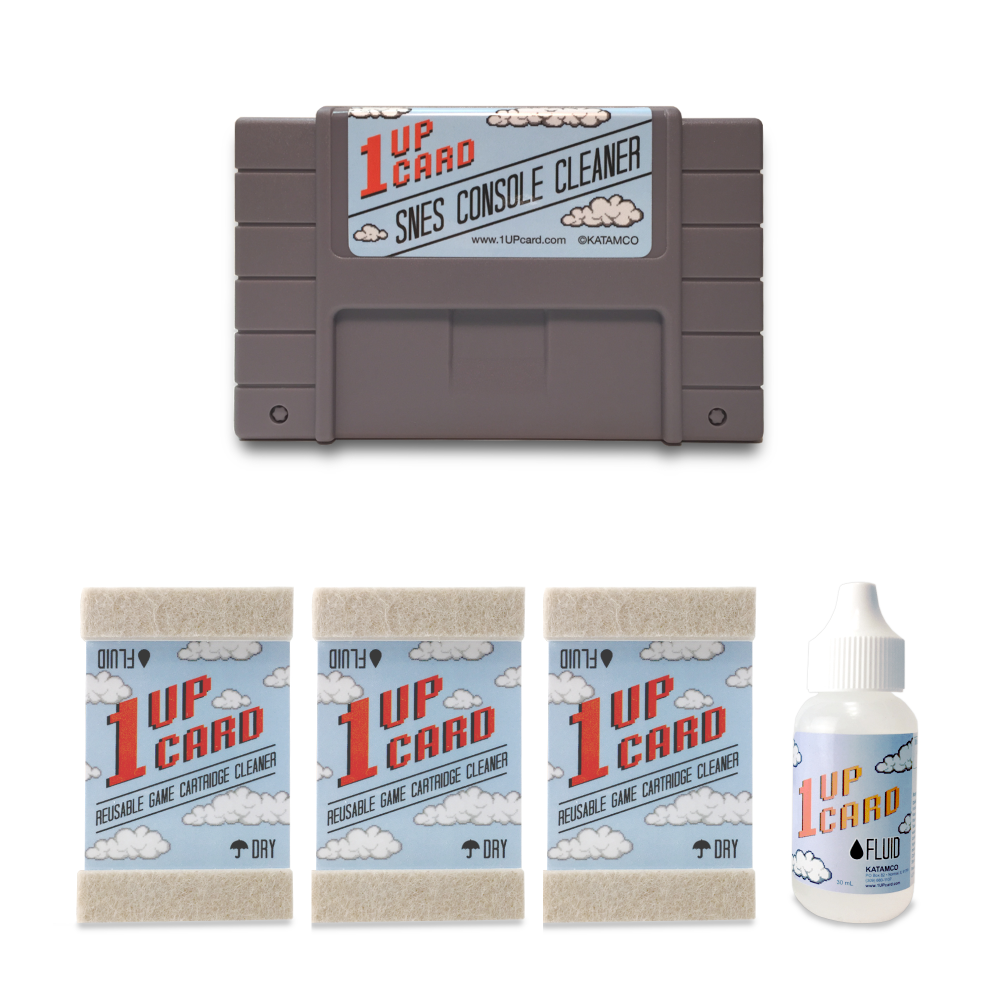 SAVE 15%
Game Boy Cleaning Kit by 1UPcard™ - Game Boy Console and Game Cartridge Cleaner Bundle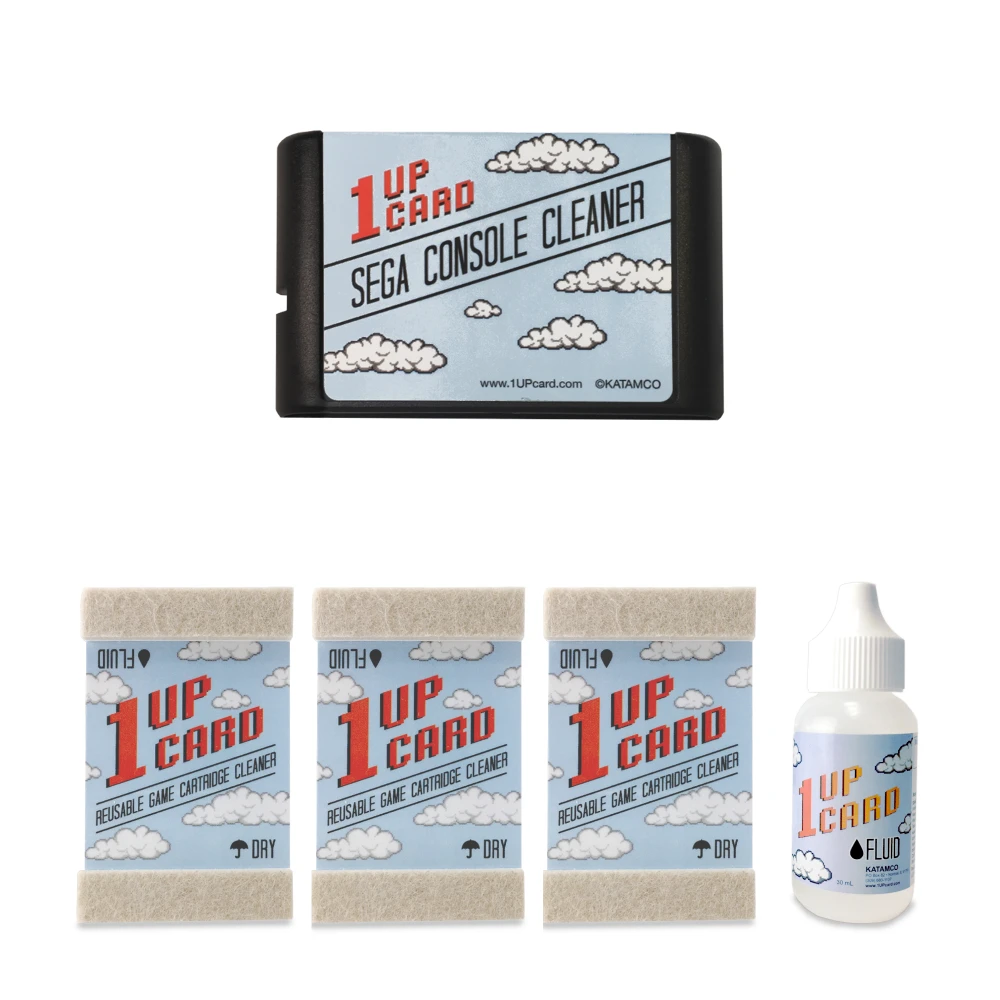 SAVE 15%
SEGA Cleaning Kit by 1UPcard™ - Console and Game Cartridge Cleaner Bundle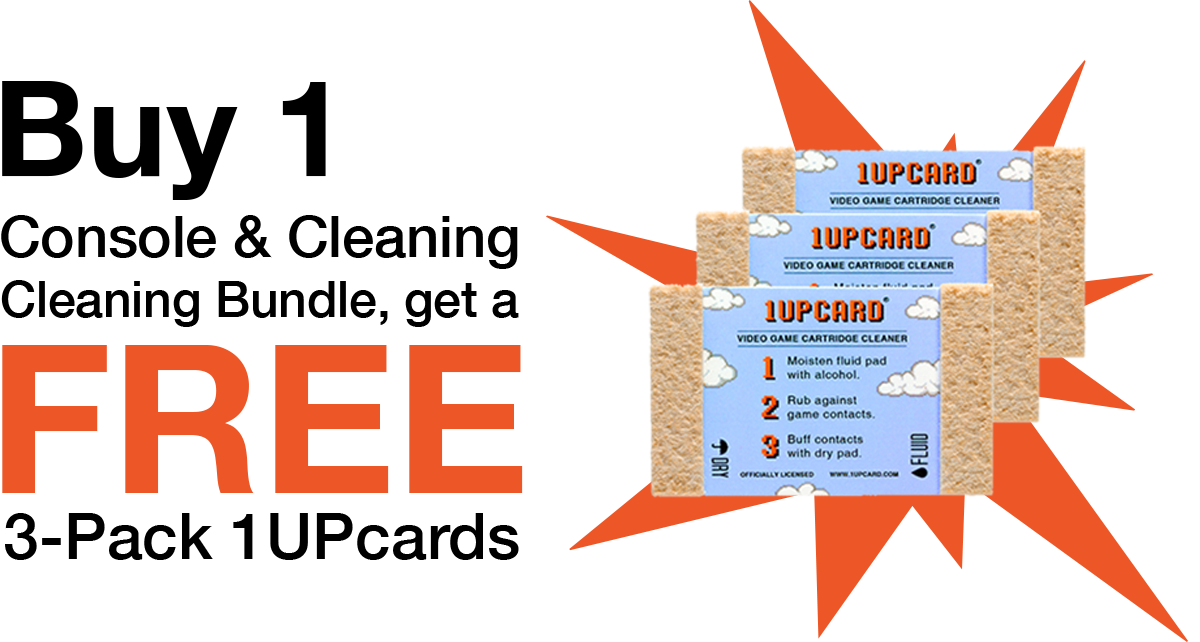 Still have a question?
Can I use the console cleaner on my Retro-Bit®, Retron 3, 4, 5, etc?
When will my item ship?
Most items ship next business day, at which time you will receive a tracking number. Tracking info may not be available until the next business day and is dependent on the carrier. Most orders shipping to a continental US address arrive in 2 to 3 business days.
How many games can I clean with one card?
It depends.
When using the 1UPcard for routine maintenance on games in decent condition it can last for 150+ uses. When using the 1UPcard to clean games you just picked up from a garage sale that have been in a dingy basement for thirty years, you can expect to clean at least 50 games with one card. If you;re not satisfied, we;ll give your money back.
The fluid pad actually draws the dirt and corrosion into the pad, so even when it starts looking rough and worn, it still effectively cleans and polishes the contacts. You can also rinse the pad out with soap and water when it becomes visibly dirty.
Note: When batch cleaning, you should be able to clean at least 10 cartridges before having to re-moisten the fluid pad. The kit provides more than 100 applications of cleaning fluid.
What is the fluid made of?
Pharmaceutical grade 99% isopropyl alcohol. It comes in an easy to dispense 1 ounce controlled dropper bottle.
What games does it work on?
Works with Atari, Nintendo, Super Nintendo, Sega Genesis, N64 and others.
Do I need to open up my game cartridges with specialty tools and clean the motherboard?
Nope. All you need is an effective cleaner for your game contacts.